youtube
설치 버전 :

youtube_downloader_hd_setup.exe
무설치(포터블) 버전 :

youtube_downloader_hd.zip
YouTube Downloader is software that allows you to download videos from YouTube, Facebook, Google Video, Yahoo Video, and many others and convert them to other video formats.
The program is easy to use, just specify the URL for the video you want to download and click the Ok button!
It also allows you to convert downloaded videos for Ipod, Iphone, PSP, Cell Phone, Windows Media, XVid and MP3.
You can use YouTube Downloader to download the videos of your choice from home, at the office or in school.
Run and Use Software
Is Full Version
Download : https://www.box.com/s/4xvskrc7r80bz9hhfqgo
Youtube Grabber 3.1

유투브 동영상을 *.flv 파일로 다운 받을수 있게 해준다.

제작자 : David Zhang

제작자 설명


Downloads FLV files from Youtube. Simply copy and paste the URL of a video from Youtube into the program, press grab OR enter, and the file will be downloaded into the same directory as the program. Version 3.1 may include unspecified updates, enhancements, or bug fixes.

invalid-file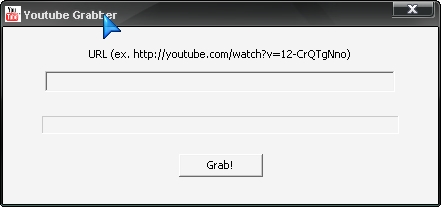 동영상 주소를 쓰고 Grab! 를 살포시 눌러준다.