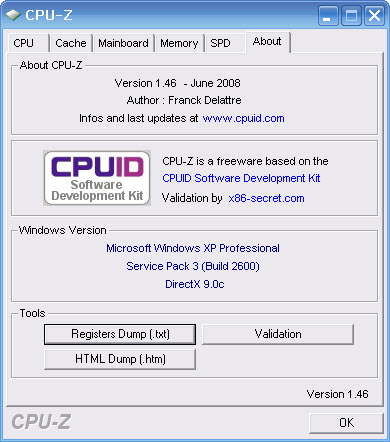 invalid-file


CPU-Z
is a diagnostic tool that provides information on your CPU,
including: processor name and vendor, core stepping and process, processor
package, internal and external clocks, clock multiplier, partial overclock
detection, processor features, supported instructions sets, L1 and L2 cache
information, location, size, speed, and technology.
clear=all>
CPU
• Name and number.
• Core stepping and
process.
• Package.
• Core voltage.
• Internal and external clocks,
clock multiplier.
• Supported instructions sets.
• Cache
information.
Mainboard
• Vendor, model and revision.
• BIOS
model and date.
• Chipset (northbridge and southbridge) and sensor.
•
Graphic interface.
Memory
• Frequency and timings.
•
Module(s) specification using SPD (Serial Presence Detect) : vendor, serial
number, timings table.
System
• Windows and DirectX
version.
Changes:
• AMD Puma platform (Turion & Turion
Ultra "Griffin").
• AMD Black Edition processors.
• Intel Xeon EX
"Dunnington".
Официальный сайт | Home Page -
http://www.cpuid.com/cpuz.php